If you've ever dropped off a fancy gown, a crisp button-down shirt, or another precious garment at a dry cleaner, you probably understand the miraculous powers of dry cleaning. But what exactly goes on there? Why are dry cleaners so much more equipped and efficient at removing stains and restoring our clothes to perfect, pristine condition?
If you've ever wondered how exactly the process of dry cleaning works, this is the video for you. It's actually a fascinating glimpse at the entire process from start to finish, and it's all explained in full detail.
You may be surprised that dry cleaning isn't dry at all. The clothes DO in fact get wet. But they're soaked with a solvent, not water. It's called "dry" cleaning because there is no actual water involved. But make no mistake, there is still liquid and the clothes do still get wet!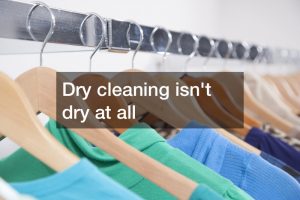 To learn more interesting facts like this, watch this informative video. This video could be especially helpful to you if you are a regular dry cleaning user. It's important (and not to mention interesting) to know what's going on with your clothes when you send them away to be professionally cleaned.